2003 Nissan 350Z repair manual
| | | |
| --- | --- | --- |
| Title | File Size | Download link |
| Audio Visual System (Section AV).pdf | 8.3Mb | Download |
| Automatic Transmission (Section AT).pdf | 5.6Mb | Download |
| Clutch (Section CL).pdf | 627.8kb | Download |
| Emission Control System (Section EC).pdf | 16Mb | Download |
| Engine Mechanical (Section EM).pdf | 4.8Mb | Download |
| Exhaust System (Section EX).pdf | 106.3kb | Download |
| Fuel System (Section FL).pdf | 326.4kb | Download |
| General Information (Section GI).pdf | 1.7Mb | Download |
| Lighting System (Section LT).pdf | 8.4Mb | Download |
| Owner's Manual.pdf | 2.4Mb | Download |
| Power Supply, Ground & Circuit Elements (Section PG).pdf | 2.7Mb | Download |
| Rear Axle (Section RAX).pdf | 449.7kb | Download |
Workshop manuals for operation, repair and maintenance of the Nissan 350Z with a gasoline engine 3.5l (V6), 2003-2008 model year.
The repair manual will acquaint you with the device of petrol V-shaped engines with six cylinders, with a capacity of 3.5 liters, containing 280 horses. He will teach not only the adjustment of the engine, but also tells you how to carry out its small or large-scale repairs and its control systems effectively. Explains in detail the repair and adjustment of the six-speed manual and five-speed automatic transmission, power steering, bridges, suspensions, on-board computer, BOSE audio, systems: ignition, power, lubrication, engine cooling, fuel and exhaust. The compilers of this manual have also taken care of your safety by writing a detailed braking system, including a parking brake, an integrated security system Infiniti SafetyShield, as well as an ABS-four-channel anti-lock, Brake Assist-controlling hydraulics in the braking system, ESP-stabilization, EBD-regulating forces brakes, TRC and VDC anti-slip systems. The repair manual describes the SRS reference restraint system. For efficient troubleshooting of electrical equipment, color electrical circuits are presented. A thorough description of body work.
All material is structured from simple to complex, served in stages and supplied with photographs, so even a driver with no experience can figure it out.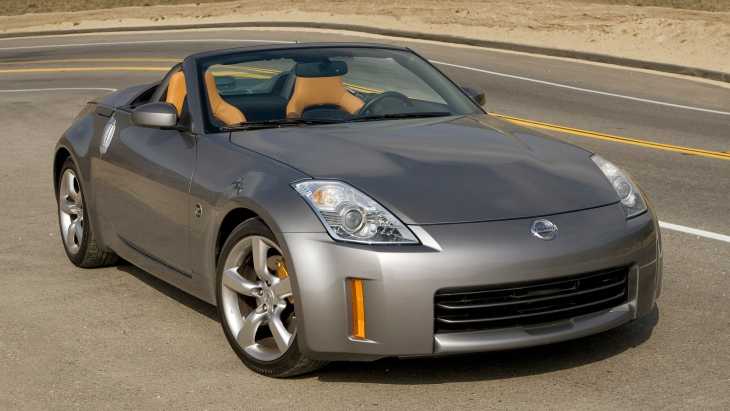 Nissan 350Z
The appendix provides an explanation of all technical terms. The maintenance manual will reveal the secrets of how to prepare the Nissan 350Z for inspection. A step by step check of all sports car systems is given. It will cover in detail all the issues of maintenance, both current and planned. Here you will find the schedule and sequence of maintenance procedures, their volumes. As a result, you will be able to competently discuss with the mechanics the upcoming work, leaving no room for them to cheat. Some maintenance procedures in view of their ease and speed, you can perform on their own, without spending their money and time.
The service repair manual is addressed to owners of sports Nissan 350Z cars. Based on the information provided, you can keep your handsome man in the best condition, always ready to travel. It is also useful for employees of organizations specializing in the professional maintenance and repair of these beautiful cars.
Attention! Clicking on the link "download" you agree, after reading, delete the downloaded file from your computer. All content on the site Carmanualsclub.com is taken from free sources and is also freely distributed. If you are the author of this material, then please contact us in order to provide users with a pleasant and convenient alternative, after reading, buying a quality "original" directly from the publisher. The site administration does not bear any responsibility for illegal actions, and any damage incurred by the copyright holders.
2004 Nissan 350Z repair manual
| | | |
| --- | --- | --- |
| Title | File Size | Download link |
| Accelerator Control System (Section ACC).pdf | 57.5kb | Download |
| Audio Visual System (Section AV).pdf | 7.8Mb | Download |
| Automatic Transmission (Section AT).pdf | 11.2Mb | Download |
| Body, Lock & Security System (Section BL).pdf | 9.4Mb | Download |
| Brake System (Section BR).pdf | 1.8Mb | Download |
| Clutch (Section CL).pdf | 682.2kb | Download |
| Emission Control System (Section EC).pdf | 17.3Mb | Download |
| Engine Mechanical (Section EM).pdf | 6.3Mb | Download |
| Enging Cooling System (Section CO).pdf | 1.2Mb | Download |
| Exhaust System (Section EX).pdf | 128.8kb | Download |
| Exterior & Interior (Section EI).pdf | 2Mb | Download |
| Fuel System (Section FL).pdf | 404.7kb | Download |
| Glasses, Window System & Mirrors (Section GW).pdf | 2.9Mb | Download |
| Lighting System (Section LT).pdf | 7.4Mb | Download |
| Maintenance (Section MA).pdf | 1.3Mb | Download |
| Manual Transmission (Section MT).pdf | 2.7Mb | Download |
| Owner's Manual.pdf | 2.9Mb | Download |
| Power Supply, Ground & Circuit Elements (Section PG).pdf | 4.4Mb | Download |
| Propeller Shaft.pdf | 305.4kb | Download |
| Rear Axle (Section RAX).pdf | 511.9kb | Download |
| Roof (Section RF).pdf | 5.4Mb | Download |
2008 Nissan 350Z repair manual
| | | |
| --- | --- | --- |
| Title | File Size | Download link |
| Nissan 350Z 2008 Audio Visual System (Section AV) Repair Manual.pdf | 2.8Mb | Download |
| Nissan 350Z 2008 Automatic Air Conditioner (Section ATC) Repair Manual.pdf | 4.2Mb | Download |
| Nissan 350Z 2008 Body, Lock & Security System (Section BL) Repair Manual.pdf | 9.4Mb | Download |
| Nissan 350Z 2008 Clutch (Section CL) Repair Manual.pdf | 646.2kb | Download |
| Nissan 350Z 2008 Driver Information System (Section DI) Repair Manual.pdf | 2.2Mb | Download |
| Nissan 350Z 2008 Exterior & Interior (Section EI) Repair Manual.pdf | 1.8Mb | Download |
| Nissan 350Z 2008 Instrument Panel (Section IP) Repair Manual.pdf | 776.2kb | Download |
| Nissan 350Z 2008 Owner's Manual.pdf | 3.4Mb | Download |
| Nissan 350Z Z33 series Electronic Service Manual .rar | 110.8Mb | Download |